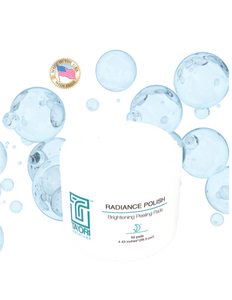 RADIANCE POLISH BRIGHTENING PEELING PADS

DELIVERS REAL RESULTS
Reveal clearer, more luminous skin with these triple-exfoliating pads. A concentrated blend of salicylic, lactic and mandelic acids sweep away dead skin that dulls the complexion, creating a bright, radiant glow. These exfoliants also promote skin clarity and even tone, while helping to rid pores of impurities. Soothing herbal extracts reduce the appearance of redness in cheek.
Why it's different?
Tri-Exfoliating Complex:
A trio of revitalizing acids includes alpha and beta hydroxy acids. This smart combination helps to rejuvenate the skin, reduce dead skin buildup and minimize the appearance of pores.
Brightening Botanicals:
Derived ingredients like licorice and bearberry extract mimic the effects of traditional brightening agents, focusing on dark spots and discoloration, while Chamomile extract provides antioxidants and a soothing effect.
Key benefits:
Exfoliates dead skin

Brightens and boosts radiance

Improves the appearance of dullness

Targets the look of dark spots, irregular pigmentation, discoloration and prominent pores

Smoothes skin texture and reduces the appearance of fine lines