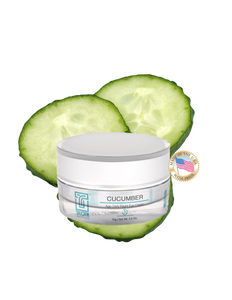 CUCUMBER AGE-DEFY NIGHT EYE CREAM
Cool and comforting, this 3-in-1 product addresses dark circles, fine lines, and puffiness around the delicate eye area. In addition to cucumber extract, this formula contains neem extract, as well as vitamins A and E to deeply hydrate, brighten the appearance of dark circles, and provide antioxidant support. Peptides, collagen, squalane, and hyaluronic acid create a multi-faceted system that hydrates, plumps, and improves the appearance of fine lines.
Why it's different?
Mega Moisture:
The skin under the eyes is extremely thin, making it more susceptible to moisture loss, which can exaggerate imperfections. Squalane and hyaluronic acid create layers of hydration to ensure that skin maintains its moisture balance. As hyaluronic acid works to pull moisture from the environment to the skin, squalane ensures that the hydration stays within the skin longer, resulting in the delicate skin around the eyes looking more refreshed and revitalized. 
Triple Threat:
Cucumber Eye Cream features the latest developments in skincare technology coupled with bioactive botanicals to address three major eye area complaints. The appearance of fine lines is improved by peptides and collagen, while under eyes are brightened and de-puffed by the neem and cucumber extracts, as well as vitamins A and E.
Key benefits
Depuffs and refreshes

Firms and fortifies

Brightens the look of dark circles

Hydrates the delicate eye area